About Joe C. Davis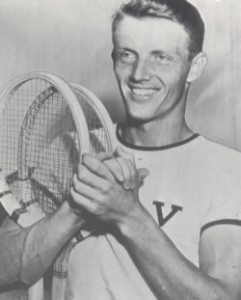 View the Joe C. Davis scrapbook.
Joseph Columbus Davis, Jr. (1919-1989) was not born to special financial privilege but made the most of opportunities. His formative years coincided with the Great Depression, which influenced his values throughout his life. Born in 1919 to Joseph Columbus and Frances Bond Davis, Joe was the oldest of three children, including his sister, Ann Bond Davis (DeLoache), and his brother, Rascoe Bond Davis.
Joe attended public schools in Nashville until his sophomore year in high school, when he received a need-based scholarship to Montgomery Bell Academy (MBA). While at MBA, he achieved academic, as well as athletic, honors and was voted outstanding boy in school as a senior in 1937. He earned a tennis scholarship to Vanderbilt University, where he went on to win the Southeastern Conference tennis title three times. He also played on Vanderbilt's basketball team.
In his first year of college, Joe and his family suffered the tragic loss of his father, Joe C. Davis, at the age of 41, after a car accident. To help support his mother and siblings, Joe earned money by selling tailor-made suits to fellow students and by working as business manager of the yearbook.
After graduating from Vanderbilt in 1941, Mr. Davis served as an officer in the Navy during World War II and participated in the amphibious operations in North Africa, Sicily and Normandy. Upon his return to Nashville in 1945, Mr. Davis began a long career in the coal industry, working first for Justin Potter and the Nashville Coal Company, where he learned the business fundamentals that played an important role in his later success.
Meanwhile, Mr. Davis dominated amateur tennis in the Southeast through the 1950's. He has now been inducted into both the Tennessee Sports Hall of Fame and the Vanderbilt Athletics Hall of Fame.
In 1956, when Mr. Potter sold his mines, Mr. Davis started his own company, Davis Coals, Inc., a successful coal sales company. Later, in the 1960's, Mr. Davis created a mining company, Webster County Coal Corporation – the Dotiki Mine in Clay, Kentucky. The Dotiki Mine was highly efficient and successful, achieving the highest coal production per man-day of any underground mine in the United States as a result of Mr. Davis' relentless focus, farsighted motivation of personnel and careful watch over expenditures. In 1971, Mr. Davis sold his mines to Mapco, Inc. (now Alliance Resource Partners) and thereafter devoted more time to philanthropic pursuits. He served as Chairman of the Montgomery Bell Academy Board of Trustees, as a member of the Harpeth Hall School Board of Trustees, and as a member of the Vanderbilt University Board of Trustees.
Mr. Davis believed strongly in the importance of individual initiative, commitment and hard work. In keeping with his depression-era upbringing, he espoused strict fiscal discipline for individuals, businesses, charitable organizations and governments. Mr. Davis appreciated and recognized the impact of education but only when combined with real personal effort and commitment. He believed in helping motivated individuals help themselves. Mr. Davis' example and beliefs form the basis for the grant making of the Joe C. Davis Foundation.